Monday, April 6, 2009 at 13:40
A disturbing picture is emerging of one of the countries at the center of the Global War on Terror, a terrifying confluence of events which constitutes a "perfect storm" of instability. This country, which President Bush formerly praised as a "leader" in the fight against militant Islamism in Central Asia, now appears to be increasingly ungovernable, what we in the West commonly refer to as a "Failed State."
A porous border facilitates the funneling of arms and resources to a booming narco-insurgency next-door, an insurgency which takes the lives of innocent civilians, militants, soldiers and police on a daily basis. In the halls of power and government, corrupt western-educated oligarchs continue to, in the midst of catastrophic economic collapse, wildly pillage the state treasuries while their rural fundamentalist constituencies, and the militant industries they patronize, fuel money and weapons to the neighboring insurgency, often with the explicit help of state intelligence services. And yet even though the citizens have recently achieved some modest democratic gains, the central government seems oblivious to their cries for justice against members of the criminal ex-regime. Meanwhile, a brutal domestic terrorist outbreak, flush with recently unemployed recruits, continues without mercy, killing over 50 civilians and security services in a series of suicide attacks over the last month.
This is not Pakistan.
It's the United States.
The narco-insurgency? It's not the Taliban in Afghanistan, it's the drug cartels in Mexico. And those corrupt western-educated oligarchs aren't the bumbling US allies in Islamabad, it's the elites calling the shots in Washington, DC. I'll let you do the rest of the math on your own, but the last figure commands special attention. The Associated Press reports, "A string of shootings in the US in the last month alone has claimed the lives of 53 people" starting with a gunman in Samson, Alabama who killed 11 people including himself and ending in Graham, Washington with a man who massacred his 5 children before finally killing himself.
So is this to say that America is really some kind of "Failed State?" Absolutely not. Rather this semantic bait and switch is intended to serve as a catalyst for western experts, analysts, and academics, those typically thought of as foreign policy elites, to rethink their perceptions of Pakistan and the role it is playing in the War on Terror. In particular, this is an antidote to the endemic tendency to paint Pakistan as weak, corrupt, and ungovernable, also known as a failed state. Far from being a dangerous, failed state, Pakistan is actually a thriving democracy with more in common with its allies in the West than either party would be comfortable admitting to presently.
I don't expect this change of perspective to be simple. Western elites have a long history of despising democratic governments while at the same time enabling the militant and authoritarian undercurrents of society within the countries they govern. The names are well known: Vietnam, Cuba, Nicaragua, Iran, Panama, Iraq.  All of these places at one point in time had democratic governments, albeit messy and tumultuous ones. Western expertscharacterized them as weak, corrupt, and ungovernable, however, and used this rhetoric as a jumping off point for violent intervention. The reward was a foreign policy timeline punctuated with the blowback of war, mass killings, and terrorism.
Pakistan, one of the largest Muslim democracies on the planet, doesn't have to be next.
Take for example the recent public demonstrations in Pakistan over the disqualification of the Sharif brothers from politics. Nawaz Sharif, placed under house arrest by the government, defied his detention and marched with thousands of people in the streets, eventually forcing President Zardari to reinstate the former Chief Justice of the Supreme Court. That Supreme Court then agreed to hear an appeal of the political disqualifications. In the west, this was seen as a horrifying example of Pakistan's  weakness, corruption, and inability to be governed. Thomas Friedman seemed on the verge of soiling himself when he breathlessly exclaimed on the CBS political talk show, Face the Nation, "they're rioting in Pakistan!"
The western narrative is that Nawaz Sharif, agent of Saudi Arabia and staunch ally of the Islamic political parties, led an angry mob in the streets to de-stabilize the weak US-backed President and threaten the US campaign against al-Qa'eda in Afghanistan and Pakistan. A more reasonable view would be that Nawaz Sharif, a typically-corrupt religious politician, the Pakistani parallel of Newt Gingrich or Tom DeLay, led a grassroots public protest against the lame duck, unpopular (think low approval ratings) President, forcing him to restore the power of the judiciary as a check and balance against legislative power, not to mention the Pakistani military. What elites in the west saw as an angry mob destabilizing a weak, corrupt government was actually a shining moment for democracy, more akin to a Pakistani version of Marbury v Madison than anything else.
When mass public demonstrations are called "destabilizing" and  "riots," the west undermines the confidence and ability of the population to determine its own government, which in Pakistan hampers their ability to strengthen the judicial system to the point where it can hold the civilian and military leadership accountable, and in effect discredits the entire democratic political philosophy. The result is that terrorist elements are legitimized and authoritarian elements in the government are forced to crack down on the population.
That Pakistan's government is becoming more responsive to the demands of its citizens should not be called weakness, but rather it's an amazingly positive sign that the concept of law and order is alive and well in Pakistani society. Indeed it is this concept that fuels a great majority of Pakistani protests against the ongoing US drone attacks inside Pakistani territory. While classified in the west as strikes against "high value" terrorist targets, they are nevertheless strikes against Pakistani citizens who have their constitutional rights violated every time the US extra-judiciously executes them for crimes they've never been accused of, tried, and convicted for in Pakistani courts.
And even this war crime doesn't factor in the extreme human cost, those innocent civilians who are slaughtered as "collateral damage." That the Pakistani government approves of these extra-judicial killings, in fact providing the US full basing rights to conduct its military campaign, doesn't make it any less illegal. Certainly in the light of elected representatives allowing such cruel and unusual capital punishments, Pakistan's democratic battle for the credibility of its legal system takes on a whole new urgency.
Of course the analysts, experts and academics who conduct the foreign policy assessments in the west aren't directly responsible for these crimes, but they did ask for them. Indeed, President Obama's "AfPak" strategy is nothing so much as a regurgitation of foreign policy conventional wisdom from the last few years.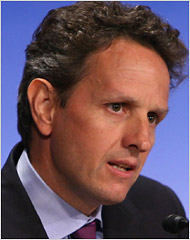 The vast majority of this strategy was laid out during Vice President Joe Biden's Democratic primary run in a speech on November 15, 2007 at Saint Anselm College. In addition to calling for a "surge" of the troops and advisors, the plan called for tripling US aid to Pakistan to $1.5 billion, for the US to condition its military aid to Pakistan on benchmarks measuring success or failure in quelling the insurgency (as opposed to spending it all in an arm's race with India) and for broader diplomatic engagement with regional players such as Iran, Azerbaijan, and India.
These ideas didn't come to Biden in a stroke of genius, they came from a politician's typical pedestrian reading of contemporary foreign policy publications. One part of the plan in particular, calling for an influx of 4,000 advisory troops, seems to be lifted directly from a June 2007 paper John Nagl wrote for the Center for a New American Security, an elite foreign policy think tank, titled Institutionalizing Adaptation: It's Time for an Army Advisor Corps.
President Obama first called for the extra-judicial killings of Pakistani citizens in a speech on August 1, 2007 at The Woodrow Wilson Center. Citing the danger posed by al-Qa'eda safe havens in the Federally Administered Tribal Areas of Pakistan, Obama said, "If we have actionable intelligence about high-value terrorist targets and [the Pakistani government] won't act, we will."
Again this was a standard action called for in foreign policy publications. President Bush was consistently attacked in the press for appeasing the Musharraf regime, who was seen as too hesitant to strike terrorists inside Pakistani territory. Naturally, the response from elites was to urge the use of military violence. As far back as 2003 analysts for Jane's Defense Weekly and Newsmax were lamenting the inability of the US to strike al-Qa'eda targets in Pakistan.
Clearly the narratives of Pakistan created by foreign policy elites have real world consequences, and thus there is a responsibility to ensure that any analysis offered into the debate should be reasonable and accurate, and not grounded in western fallacies of weak, corrupt, and ungovernable failed states. When experts called for strikes against al-Qa'eda in Pakistan, they weren't offering realistic counterterrorism solutions, they were calling for the equivalent of Canada dropping 500lb bombs on criminals in Detroit, Michigan. They were advocating illegal vigilante justice.
Now the foreign policy debate has turned to even greater existential questions about the fate of Pakistan. Experts casually run the cost-benefit analysis of wider military action against Pakistani criminals, while at the same time using frequent instances of mass killings and terrorism as impetus to question the very governability of Pakistani citizens. However, these questions could be answered, presumably without such depraved and violent solutions, by simply accepting the perspective that Pakistan and the West are far more similar than they are different. Quite simply, follow the golden rule, and treat others the way you would expect to be treated.
Remember the suicide attacks in the United States, those that have killed 53 Americans in a single month? The reactions from citizens have been confused, hurt, and frightened. There is a general difficulty comprehending the purpose of so much tragedy and bloodshed. In response to one of the attacks in Binghamton, New York, a local resident told WIVB-TV, "This is crazy - 13, 14 people dead. I never dreamed I'd wake up to see this, to hear this, you know?"
Similarly, in response to a recent string of violent attacks, Adil Najam wrote in the Pakistaniat, "For the life of me I cannot understand how the US thinks it will root out terror by lobbing bombs at Pakistani women and children. Nor how these militants think they are helping Islam or fighting America by killing Muslims and Pakistanis, bombing girls schools, or terrorizing civilian populations…All we know for sure is that innocent Pakistanis are dying. For what? For whom? Why?"
Pakistan is not a failed state, it is a vibrant democracy, and it is not weak and ungovernable, it is a fellow law abiding member of the international community. Until pundits, analysts, and academics in the foreign policy establishment, and those in the halls of power who feed off their conventional wisdom, can break with their western superstitions about the weakness, corruption, and chaos of developing democratic countries, they will be incapable of providing any answer to these questions. If the foreign policy elites wish to engage in Pakistani politics and tackle issues of counterterrorism, they should do so in a manner that acknowledges the democratic and legal values of the Pakistani citizens.
When we call a country a failed state, it leads to extra-judicial killings and exorbitant numbers of civilian casualties. This illegal violence undermines the democratic institutions, strengthens the militant and authoritarian factions within society, and like so many times in the history of western civilization, leads to the blowback of violent, extremist terrorism. Quite frankly, the next time a Pakistani gazes upon the scenes of carnage from a US drone strike and asks "why," we'd better have a damn good reason.