Sunday, April 12, 2009 at 10:07
Related Post: UPDATED - General Odierno Backs Down?
Related Post: Video and Transcript - General Odierno on CNN's State of the Union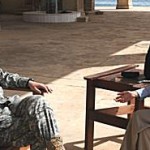 Even as I was writing about the challenge of General David Petraeus
, the head of US Central Command, to the Obama strategy on Afghanistan, another military commander was re-launching an offensive against the President.
General Raymond Odierno's battlefield is Iraq, where he supervises US troops. For months, he has been unhappy over the Obama plan to reduce American forces. So, only weeks after the compromise of a 19-month withdrawal was announced, Odierno has returned to the attack.
His initial campaign was in The Times of London
, which gave him a couple of pages on Thursday. As we predicted, the recent "uptick in violence" in Iraq will be used by Odierno to resist the July deadline to take US troops out of Iraqi cities:
[The violence] is not going to be solved quickly and it's about having constant security across Baghdad and you have to be that way a while longer....The agreement says that combat forces out of the cities by June 30 so all of our support forces will remain. But we will be prepared to assist them if they need it.
Of course, the general has to maintain the Looking Glass View that, while violence is getting worse, the situation is getting better: "What is different now from 2004 is that we do have Iraqi security forces that people still have faith in, we do have a government in place that will come out and make comments."
What is most striking in Odierno's public-relations campaign is that his definition of the fight in Washington is much clearer than the fight in Iraq. He rattles off a check-list of challenges --- integrating the "Sons of Iraq", the Sunni militias that the US built up from 2007, into the Iraqi military; Arab-Kurd tensions; "Iranian influence"; Al Qa'eda; "a common vision by all political leaders for Iraq" --- without any apparent distinction between those issues or a strategy on how to approach them.
For all the puffery on how the Odierno of 2009 is different from the Odierno of 2003/4, who led his division in the breaking down of Iraqi doors and alienating of local sympathies, the general still holds up "Iraq" as this abstract political space in which bad guys lurk: "In a region such as the Middle East you are going to continue to have people who want to use violence, whether it be al-Qaeda, whether it be Iranian surrogates."
That, however, is an advantage if your primary concern is not Iraqi political stability but the defense of your military operations, which never really come to an end.
Odierno's next campaign appearance? Today on CNN's flagship political programme with John King.