Monday, February 23, 2009 at 13:25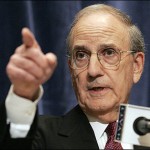 Last Thursday George Mitchell, the US envoy in the Middle East, in a conference calls with Jewish-American leaders, stated the full support of the Obama Administration for a Palestinian unity government. That in itself is a long-standing American policy; what was significant was that Mitchell indicated the unity government could include not only Fatah, the party behind the Palestianian Authority, but also Hamas.
The timing of Mitchell's intervention was even more important. As of last Thursday, Egypt's efforts to bring Fatah and Hamas together in "reconciliation" talks, scheduled for 22 February, appeared to be going nowhere. Although Fatah leader Mahmoud Abbas had praised Cairo's initiative but Hamas had refused unless the Palestinian Authority released its members from jails in the West Bank. This weekend, after Mitchell's statement was widely publicised by the Obama Administration (and after British and French delegations had met with Hamas representatives in Beirut and Damascus and after three US Congressmen visited Gaza), Egypt was able to announce that the talks would proceed on Wednesday.
Of course, Mitchell continued to emphasise the long-standing conditions of the "Quartet" of the US-European Union-United Nations-Russia for Hamas' political participation: halting violence, recognizing Israel, and accepting previous Palestinian-Israeli agreements. But these demands have already been accepted, at least in their rhetoric, by the officials of Hamas, as the organisation moves away from its 1988 Charter. What has been needed, given the double standards applied to Israeli behaviour and that of Hamas, has been some sign of goodwill which would permit legitimacy for the Hamas leadership.
It is unclear what that sign, for Mitchell, was. On the surface, there was no need to recognise a "victorious" Hamas, because the party has been weakened by the Gazan conflict. While Hamas was not defeated militarily by Israel or even significantly damaged, and while it has had a short-term political boost --- especially compared with Fatah and the Palestinian Authority --- as the defender of Palestinians, it cannot turn this to a decisive advantage against Tel Aviv, as Hezbollah did in the Lebanon War in 2006. Politically, with its ostracism by the West, it still lacks the image of an established "authority", in contrast to that given to the Palestine Liberation Organization from the 1980s.
However, Hamas' inability to project "victory" --- at least to the West and Israel, if not its own people --- may have actually worked to its advantage and brought Mitchell's signal. Because the group might be represented as needing to moderate its views in order to get any role in the peace process, the Obama Administration can contain the notion of Hamas as imminent threat to a new Israeli Government.
Indeed, with Israel itself in transition, Mitchell could put the challenge to Tzipi Livni and Benjamin Netanyahu rather than Khaled Meshaal or Ismail Haniya: "Form a government that is ready for dialogue and cooperation in solving the Palestinian-Israeli problem."
So the hand has been extended, very indirectly and at a distance but still extended, to Hamas by Obama. The 44th President of the United States of America, unlike his predecessor, has given priority to an meaningful peace process rather than the rigid mantra of "Israeli security". If Hamas got the second of its nine lives through survival in the Gaza War, it now has a third political life. Whether that continues may be conditioned on whether it can find some consensus with Fatah now.