Friday, January 25, 2013 at 12:55
|

Scott Lucas
in

EA Live,

EA Middle East and Turkey,

Middle East and Iran
Clashes near Cairo's Tahrir Square on the 2nd anniversary of the uprising against the Mubarak regime
See also Syria Live Coverage: The Refugee Emergency Grows br>
Thursday's Jordan (and Beyond) Live Coverage: A Parliamentary Election --- But What Does It Mean?
---
2150 GMT:Egypt. A high-ranking police officer in Suez has said two members of the Central Security Forces were killed in the city tonight.
Hundreds of people have raided the tax office building n the Delta city of Damanhour, stealing its furniture and electronic equipment.
2110 GMT:Egypt. At least six people have been killed in Suez today.
Three of the dead are 17-year-olds Mostafa Mahmoud Eissa and Mohamed Mohamed Gharib, and 26-year-old Mohsen Hussein.
Protesters and police clashes in Suez near the Governorate headquarters, with both sides throwing stones and some demonstrators hurling Molotov cocktails. The building was eventually set on fire.
Meanwhile, the injury toll has reached 252 across the country.
Hundreds of protesters have raided the headquarters of the Muslim Brotherhood's Freedom and Justice Party in the Nile Delta city of Damanhour, reportedly injuring at least 19 people.
Earlier today, the Brotherhood's Ismailia headquarters was demolished (see 1535 GMT).
Fighting is reported tonight at Maspero, 10 minutes by foot from Cairo's Tahrir Square, in front of the State TV building.
2038 GMT:Egypt. A report of the first death in today's clashes amid protests:
The body of 17-yr-old Mostafa Mahmoud Eissa, #Jan252013's 1st martyr, is now being transferred from the hospital to the morgue. #Suez #Egypt

— آدم (@adamakary) January 25, 2013
1818 GMT:Mali. Government officials are saying that the war against insurgents in the north will be over in a matter of days, as their troops recaptured another town and advanced on the insurgent stronghold of Gao.
Malian forces reached the town of Hombori, 100 miles south of Gao, on Thursday following a series of French air strikes, officials said.
"We are winning very rapidly," Minister of Communcations Manga Dembélé said today. "We are making quick progress....The rebels have been dispersed. We expect this to be finished in days."
On Thursday, about 160 troops from Burkina Faso deployed in the central Malian town of Markala. They are the first West African troops to link up with Malian forces and about 2,150 French troops.
The West African regional bloc ECOWAS said it was organising an emergency session of defence chiefs from its 15 countries. The gathering on Saturday will be held in the Ivory Coast.
1618 GMT:Egypt. Officials say 61 protesters and 32 police have been injured in clashes today.
1543 GMT:Iraq. At least four protesters and two soldiers have been shot dead in clashes near Fallujah.
The bloodshed began when demonstrators threw rocks at Iraqi security forces. The forces opened fire on the crowd, and demonstrators responded by burning army vehicles and two cars. It was the first time that one of the escalating anti-Government protests over the last month had seen deaths.
Later, unidentified gunmen shot dead two soldiers and wounded one at an army checkpoint south of Falluja in apparent retaliation. Three soldiers were kidnapped, a police official said.
1538 GMT:Bahrain. Police have fired tear gas to disperse hundreds of protesters in the capital Manama:
Blogger Nader Abdul Emam has been arrested, according to activists.
1535 GMT:Egypt. Claimed photo of the Muslim Brotherhood building in Ismailia, demolished by protesters:
1425 GMT:Bahrain. Today's protest in the capital Manama:
1405 GMT:Egypt. The Ministry of Interior has written to protesters on its official Facebook page:
Dear revolutionaries, you have the right to protest, express your opinion as much as you want. There will be no hostility between you and us as long as you refrain from any sabotage or attacks on police establishments.
Clashes and the use of tear gas are now reported in Suez near government buildings.
1345 GMT:Egypt. Authorities in Alexandria say at least 30 people have been injured in clashes between protesters and police.
Ahram Online's Yasmine Fathi, at the Governorate's headquarters, says tear gas is "much worse" than that used in previous clashes.
1335 GMT:Egypt. The Guardian's Patrick Kingsley reports from Tahrir Square that tensions are rising as demonstrators begin to gather:
There's trouble down at the southern end of Tahrir Square, as police and hundreds of protesters take it in turns to lob meaty chunks of rubble over two makeshift walls built to protect the Interior Ministry from attack.
It's personal, says one of the stone-throwers, Karim Ali — revenge for the protesters killed by police since 2011. "The police are behaving the same as they did during the Mubarak years," says Ali, carrying a slingshot.
During particularly violent volleys, the crowd surges back to avoid being hit. Some aren't so lucky and are treated for head-wounds in the field hospital to the north. Teargas hangs in the air, and young girls walk through the crowd offering tissues to those with tears streaming down their face. Many wear scarves to keep out the gas, and a lucky few have gas masks.
1240 GMT: Egypt. Patrick Kingsley reports for The Guardian from Cairo:
The march in Giza --— one of several heading to Tahrir Square today —-- is now underway. "Down with the Guide," the protesters chant --— a reference to the Muslim Brotherhood's leader Mohamed Badie, who many think controls President Morsi.Others are more directly critical of the President.
Daily News Egypt reports marches in Suez and tear gas fired at protesters in Alexandria.
1234 GMT: Egypt. Back from an academic break and Internet problems to find reports of marches in major cities --- but first a reminder of the scened two years ago, "Mubarak Resign":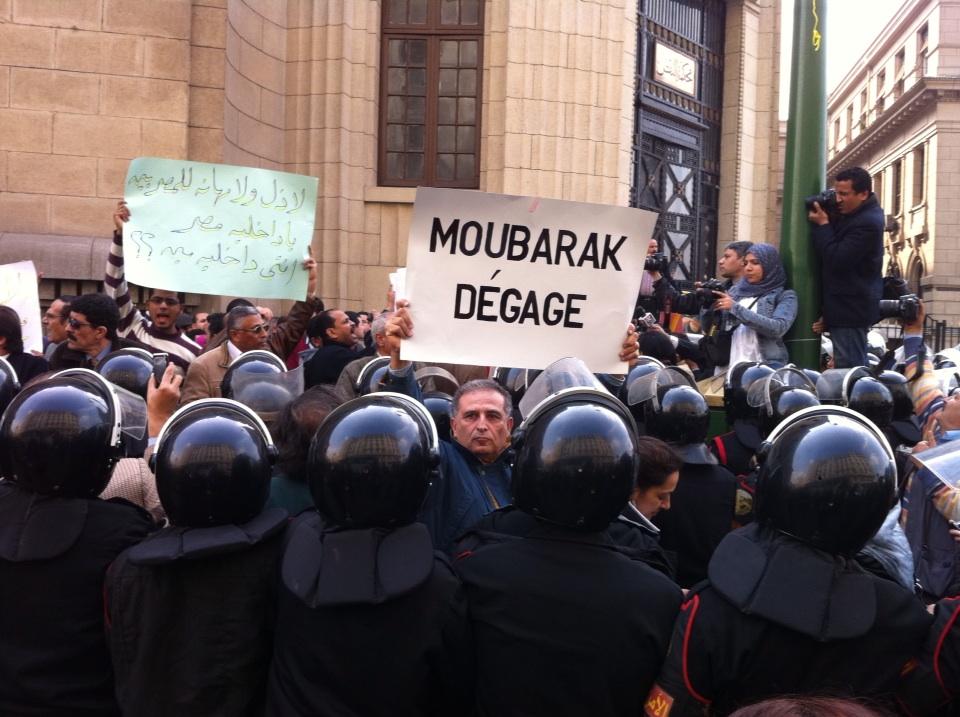 0724 GMT: Egypt. Two years ago today, thousands of Egyptians answered a call to gather in Tahrir Square in central Cairo and protest against more than 30 years of rule by the Mubarak regime. Seventeen days later, Hosni Mubarak stepped down --- today, he is awaiting a retrial on charges that put him in prison for life.
But given all that has happened since then --- politically, economically, socially --- how will Egyptians mark today?
Opposition groups, including the National Salvation Front, have called for rallies "in all the Tahrir Squares of the country". Authorities have vowed to keep security forces out of Cairo's Tahrir Square to decrease the risk of confrontations, but said police would be in the surrounding areas to arrest troublemakers.
Thursday's preview in Cairo was street clashes between protesters hurrling stones and Molotov cocktails at security forces who fired tear gas. Dozens were injured after demonstrators began tearing down a cement wall in front of the Parliament and Cabinet buildings and chanted, "Down with [President] Morsi. Down with the power of the [Supreme] Guide" of the Muslim Brotherhood.
Morsi, visiting the western city of Ismailia to inaugurate a maritime project, but was received by activists who blocked a railway station and tore down the welcoming banners. They said they were opposed to inaugurating new projects while there is corruption in the railway system.
Egypt has suffered five deadly rail accidents in recent weeks, killing more than 70 people.
Later in the day, Morsi said in a speech for the birthday of Prophet Muhammad, "I call upon Egyptians to celebrate the revolution...with civilisation and peacefully to preserve our nation, our institution, our souls, our streets and our sons."
The President continued, "We have to feel that we are all in one ship and we have to preserve its safety and respect the people and their free will which they express in their ballot boxes."