Monday, March 30, 2009 at 12:17
Latest Post: Mehsud Claims Responsibility for Lahore Attack; 18 Dead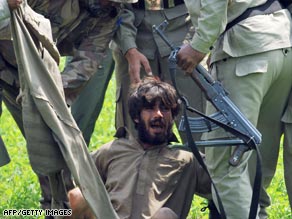 UPDATE (3:10 p.m. BST/7:10 p.m. Lahore):
Dawn is quoting Pakistani security sources
that eight attackers were killed, including two who blew themselves up, and six detained.
Geo News is saying
four attackers killed and four detained, with eight policemen "martyred" and 95 wounded.
Military spokesman is also telling CNN
eight security personnel killed; previous statement of 30 people killed is being blamed on "wrong information".
UPDATE (12:30 p.m. BST/4:30 p.m. Lahore): There is still confusion in press accounts.
The Pakistan newspaper Dawn is reporting
, "The police have overpowered the gunmen and the operation has concluded", but "official confirmations of the development are...awaited". It puts the death toll at "only" 13 although "it is likely to rise".
Al Jazeera is reporting
up to 50 dead, with security sources saying at least four gunmen killed and six seized.
The Daily Telegraph in Britain
is citing reports of 60 dead from Pakistani television stations, with police statements of 92 wounded. About 25 gunmen were involved in the attack.
UPDATE (12.15pm BST/4.15pm Lahore): Reports suggest that Pakistani security forces have retaken the training centre, arresting at least one suspect.
CNN says
that at least 10 are dead, with local media reporting the number of dead as high as 25. The BBC, however, says
there could be 40 dead
.
Morning Update:
A gun battle is continuing in Lahore
between Pakistani security forces and attackers who invaded a police training centre Monday, throwing grenades and firing at officers taking morning roll call.
The attack killed 20 and wounded 25.
Pakistani Rangers and police, supported by the Army and helicopters, have taken up positions around the centre.