Thursday, September 24, 2009 at 18:15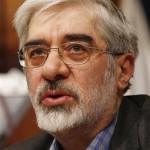 Thanks to Pedestrian, who has posted at
www.sidewalklyrics.com
:
Mousavi Letter to Montazeri
In the Name of God, the Compassionate, the Merciful
To the honourable Marja, the grand Ayatollah Montazeri,
Greetings,
Following the events of the past few months, I released the following attached statement. We have always felt a need to work and cooperate with with the honourable marjas and devoted clerics and this encouraged me to send a copy to you, in order to ask for your guidance.
The first goal of this statement is [to send out the message] that if people feel anger and discontent, they should not direct these negative feelings that fill their hearts, toward religion. This [keeping people from such feelings] is the responsibility of all of those who have been deeply influenced by Islam and especially the clerical elite. They must not allow different social groups, especially the youth who compose the majority of our population, be fooled by the shallow, incorrect and selective interpretations of religion and to distance themselves from Islam based on sudden bursts of emotion.
State media persistently tries to portray us as the source behind the recent unrest. This is while the behaviour of officials, not only in the election, but from years before, has created a mountain of straw that was set ablaze by the recent blunders. The wind of arrogance that was blown through this mountain created bigger and bigger fires each and every day. I personally take the side of a people whose rights have been trampled by Illegal, unIslamic and unjustified actions. By referring to undisputed documents, I am certain that without a doubt, there has been systematic fraud in the recent election. At the same time, it would not have been difficult to stay silent for another 20 years if I didn't feel an imminent threat to the system in the wave of anger of the people.
However, if one [leader] keeps silent and yields, people will not refrain from their movement as they have never refrained in the past. Instead, after a brief period of confusion the movement would start anew. Their movement will have started again, this time blind with no one from devotees of the establishment to rely upon. Then maybe others who have their eyes set upon our nation would have stepped in to take advantage of this movement with their own intentions and to feed their own greed.
Another goal of this statement, along with my other statements and activities, is to keep the people's movement in the framework of the establishment so that it wouldn't go astray down the dangerous path of bringing down the structure [of the establishment.] If this danger is turned into reality, it could easily make another Afghanistan or Iraq out of Iran. We cannot forget our duty to stop such dangers from occurring just to make some ignorant people happy. Similarly, we can not invite people to keep calm if we can not prove to them that we stand and speak up for their well deserved rights on their behalf.
In his treatise titled Olfat, the late Molla Mohsen Feyz Kashani writes that the final aim of most sharia laws are to create friendship and belonging in society. The result of this friendship and belonging is what modern sciences call social networks – a means to restrain ruling systems and to keep them from repeating mistakes, and a method to create a society infused with life and a platform to gently hold on to ignited emotions and talents and to keep them from going down the hills of destruction. In this statement, a strengthening of these networks has been suggested. According to the words of Feyz, this network could be perceived as the exemplar of Islam, although those who are grossly unfair portray it as an exemplar of the CIA.
And finally, in this statement, suggestions on how to solve this current crisis are made which I hope will be given attention.
With regards,
Mir Hossein Mousavi
September 13th, 2009
——————————
Response of the Grand Ayatollah Montazeri:
In the name of God, the Merciful and the Compassionate,
Dear Mr. Mir Hossein Mousavi,
May God support your success,
First, please accept my greetings. I received your letter dated 12/09/2009 [sic] and reviewed the attachments. You are a man of great character and your commitment to the ethical and religious values and goals of the revolution are obvious to all. The tremendous services of your government during the imposed war, and your constant support of the departed Imam Khomeini (May the love and mercy of God be upon him) are clear to everyone. During the recent presidential election and the subsequent confrontations and atrocities, you became the focus of numerous classes of people and gifted individuals. This was, in fact, a test imposed on you by the great God and by our vigilant people. You have indeed passed it. So far, and to the best of your capacity, you have defended the desecrated rights of those people [whose high turnout and participation in the election] was a great source of pride for our country. As such, you deserve acknowledgement and gratitude.
The initiatives you suggest in the attachment will work to activate and strengthen social networks and organizations. These ideas are prudent and rational, in context with the current conditions of the country, and in accordance with the commands of the holy Quran that tell us: [1]
"O ye who believe! Persevere in patience and constancy; vie in such perseverance; strengthen each other; and fear God; that ye may prosper."
If the authorities put aside their ignorance and consider [your recommendations] in an unbiased manner, put them to use and put a stop to this environment of policing and detainments, [your ideas] can offer a beneficial and effective path out of the current crisis – a crisis dominating the Islamic republic through their selfishness, pride, mismanagement and ambition. [Your recommendations] could be the stepping stone for a positive move towards reform within the establishment and towards protecting the system from separation, disintegration and division.
Of course you are aware that in choosing the aforementioned solutions to defend the people's rights and to ensure the survival of the Islamic Republic, you can expect an arduous task of reform that will be resisted through countless threats and pressures from those who have created the current crisis. Please be confident that through unity, patience and endurance, God has promised to reveal the way to guide people to victory[2]. In addition, [according to the holy Quran in support of humans who struggle down this [God would send his] angels who annunciate messages of security, and strip the heart off all grief and fear. [3]
Unfortunately, many politicians, political activists and journalists were detained after the election. Against Islam and the rule of law they were pressured into false and deceitful confessions, some of which were televised via national media. It is certain and evident that a person's implication of others under such conditions is without merit and recognition. Moreover, further confirmation exists in the holy stories[4] of the prophet and the Imams that even self-directed confessions extracted under any kind of pressure or torture (including but not limited to threats, intimidation, infliction of physical pain, confinement, and so on), are without merit.
A claim of jurisprudence that denies these lessons is a false one and opinions that negate these lessons clearly deviate [from the true foundations of Islam]. The Quranic verse and imperative [self-implication of a rational person is permitted][5] confirms that only if revealed without pressure or force, is a confession valid.
In addition, article 38 of the constitution reads: "Any form of torture to force confessions, or to obtain information is forbidden. A person should not be obligated to swear, confess or bear witness as such any action of that sort is without worth and legal value. Any defiance of what has been mentioned in this article will be punishable by law." Based on the general application of this article and its implications, any [form] of torture to collect information or to force confessions requires punishments and confessions, and admittances extracted in such manner is without legal value and merit.
It is obvious that long-term imprisonment in solitary confinement, an act that places the accused under severe pressure to confess, is a clear example of torture. The confession of the accused – even if it's self-implication – is neither valid nor recognized when it is a product of exerted pressure and torture, especially in its recent fearsome form and its horrifying consequences. In this situation, repeated confessions (even if announced many times in roundtable discussions and interviews) would be as worthless as the initial confession.
Moreover, it is written in Article 39 of the Constitution that "all affronts to the dignity and repute of persons arrested, detained, imprisoned, or banished in accordance with the law, whatever form they may take, are forbidden and liable to punishment."
So, what has happened [to this country] now that prominent figures who have provided years of great civil service are desecrated and not only has nobody been punished, but the perpetrators have even been endorsed and encouraged? Moreover, the "confessions" have been recognized as credible?
What has complicated the problem and invalidated the "confessions" even further is that in the current judicial system of the country, the plaintiffs [and the prosecutors], against the politically accused defendants who are in opposition to the current government, are themselves among the interrogators of the forced confessions and come from legal institutions tied to the government. Nowhere in the world, would any sound reasoning put even the smallest amount of legal credibility and legitimacy to such confessions, and to the consequent trails; because in these trails plaintiff and the judge are one and the same, clearly against the fundamental of having a jury based on Article 168 of the constitution. Unfortunately, this article too, like many other articles has been ignored and not acted upon.
Recent course of action taken by the government, and the show trails are not only against the law and betterment of the country but also in contradiction to basic benefits of the authorities to stay in power. Instead of clamping down on people and creating the recent atrocities, if authorities had been more politically wise and listened to warnings of prominent politicians, religious leaders and had chosen an impartial committee accepted by both all sides of the conflict, then we would have never fallen into the current crisis of illegitimacy.
A government that has many classes of people unsatisfied and its intellectuals under distress is not a government going to survive. Shah's regime could have kept its governance and would have still lasted if governance was possible by scaring, and oppressing and filling the prisons from freedom-seeker, gifted figures, and different political activists.
By committing to such atrocities, a system under the rule of Islam that takes pride in being Shiite creates pessimism toward Islam and announces the inability of Islam to bring about justice in a society not only on global scale but also in our own nation, among our own masses and youth. Unfortunately, decision makers at the top have turned a blind eye to these clear truths, and are content to the eulogies of their poets, and flattering of their fawners. I beseech the great God for your well-being and success on this treacherous path.
May the Grace and mercy of God be upon you,
Holy City of Qum,
Hossein-Ali Montazeri
22 September 2009